Everything We Do is for the Benefit of Our Customers
Yasuo Ninomiya, President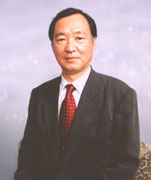 Changes in eating habits have caused serious health issues, including a rapid increase in lifestyle-related diseases and other various health issues.
"Healthy Longevity" is one of the most important missions in society and the government, and various measures are taken consistently to achieve this goal.
Supplements and functional food have increasingly attracted attention as tools for improving one's quality of life. Daiwa Pharmaceutical Co., Ltd., has developed and manufactured products with an emphasis on not only efficacy, but also safety of products, since our products are taken internally.
Our company values are "safety", "harmony with nature", and with a focus on "research and development, supported by scientific evidence". We are determined to create products which fully satisfy our customers though all possible means.
Our Tsukuba plant has been granted FSSC22000 certification, which is international certificate to ensure product safety control. The principles of this certification is prevalent throughout the company, and the requirements have been incorporated in every process and system.
We continuously strive to develop new products that are in line with our company mission and vision in order to ultimately enhance the health of society.